In The News -From Quality Search

Top Reasons for Employee's Reluctance to Relocate:
A recruiter presents an offer to a candidate and, at the last minute, the candidate turns down the position for reasons the recruiter thought were addressed. The candidate may blame their kids in school, their house, their spouse's job, or even the family dog. Do you recognize this scenario?


Outside of being a good fit for the company, there are many reasons why a candidate may be reluctant to relocate. According to the Employee Relocation Council's 2005 Transfer Volume Survey, high housing cost areas was the #1 reason (77%) why candidates are reluctant to relocate. Following in a tie for second is high cost of living areas and family/spousal reluctance to relocate (65%). Spousal resistance to leave their current employer come in fourth on the list (31%) and undesirable locations rounded out the top five (20%). These are issues that need to be addressed early and often throughout the hiring process, to help ensure there are no last minute surprises.


This is one of the reasons why it is imperative that your candidate speaks with an RR Coach early in the process to help identify and overcome some of these obstacles. Our coaches speak with candidates before the on site interview to help identify any of these red flags, and share that valuable feedback with the recruiter. Many times, the candidate and spouse will share information with the Relocation Coach that they just won't share with the recruiter. Use "Recruiter Relocation" as leverage to gain additional insight into the family needs and concerns about making a move! Allow RR to partner with you, the candidate, and the client to ensure the smoothest transition possible.

The newest survey is out from the Employee Relocation Council about relocation transfer volume. One of the top issues among recruiters and clients is addressing issues concerning employees and their reluctance to accept a relocation position. The newest survey reflects a change in the mindset of employees and reconfirms what many of us are hearing from candidates.

The top issue for 2007 was the slowed real estate appreciation with an overwhelming 71%. Thus far in 2008, real estate depreciation is a factor! A candidate may not get top dollar when selling their house, but they will benefit at the new location with a "real bargain" on a reduced price! In other words it equals out and this is important to know and realize.

Last year's survey sited the top three reasons as:
· Employee / family resistance to move – 67%
· High housing costs – 59%
· High cost-of-living areas – 55%
Results compliments of: The Employee Relocation Council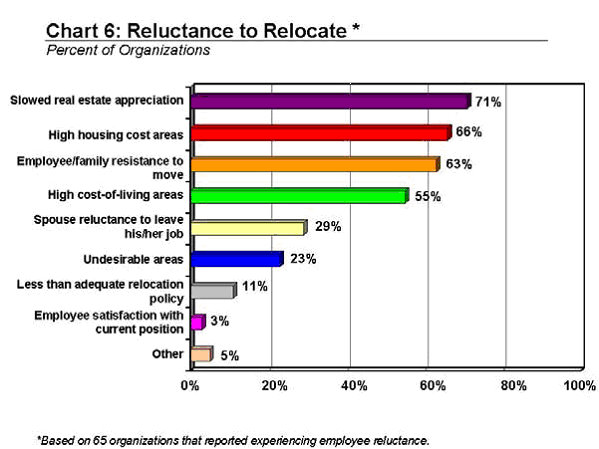 Recruiter

Relocation specializes in supporting Recruiters through the placement and relocation process. RR helps recruiters, their clients and candidates prior to the face to face interview all the way through the completion of a relocation.


Visit: Recruiter Relocation or
Contact: Mickey Matteson
Account Manager toll free at Ph: 866-787-4949.
Distributed by: Recruiter Relocation with & through Quality Search
---
"Our goal is to find you the Quality Candidate that matches your true needs!"


- Placing Packaging Professionals Since 1981! -
Quality Search is a division of The Wolfe Group, LLC